DNR News
September 30, 2015
Fish, fun, & food at DNR open house in Charleston Oct. 24
Come face-to-face with a flatfish, practice your fishing knots, or take a cruise around Charleston Harbor at the upcoming Marine Resources Center Open House, an activity-packed event that's all about the coast.

On October 24, 2015, from 9 a.m. – 4 p.m., the South Carolina Department of Natural Resources (DNR) Marine Resources Center in Charleston County will open to the community. For the first time since 2008, the public is invited to enjoy a behind-the-scenes look at the Center, where world-class coastal science, education, and management happen.

The Marine Resources Center is located on James Island and enjoys beautiful views of the city of Charleston, the harbor, and the iconic Ravenel Bridge. Whether your family is brand new to the area or has been in Charleston for generations, we welcome you to come find out more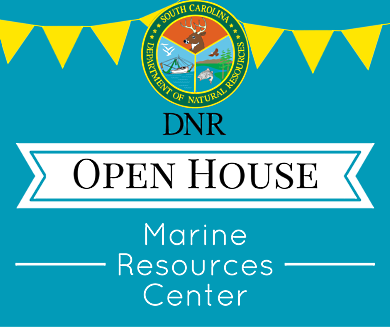 about the water and wildlife that make the coast such a desirable place to live – and the people who safeguard these resources for the citizens of South Carolina. Meet the scientists who study our state's sea turtles, salt marshes, and shellfish, the law enforcement officers who protect our waterways, and the educators who help schoolchildren discover the beauty of the coast.

A small sample of Open House activities:

* Touch tanks with live marine animals

* Knot-tying tutorials for anglers

* Talks on shark biology, fall fishing techniques, and more from local experts

* Virtual boating simulator

* Self-guided tours of Grice Marine Laboratory

* Fishing and casting basics for kids

* Dozens of booths highlighting DNR's marine resources work

* Charleston Harbor cruises in the E/V Discovery

The Marine Resources Center campus is home to several partner organizations, including NOAA's Center for Coastal Environmental Health and Biomolecular Research, the Hollings Marine Laboratory, and the College of Charleston's Grice Marine Laboratory, and the Medical University of South Carolina, all of which will be represented at the Open House. The event is sponsored by the Harry Hampton Wildlife Fund, a private, nonprofit natural resources partner with South Carolina.

PLEASE NOTE: Parking will only be available at James Island High School, and transportation will be provided to the Marine Resources Center (no parking on site).

Admission to the Open House is free. Food and drinks will be available for purchase. DNR's licensing office will also have a booth, affording folks the opportunity to sign up for fishing licenses on site. Only service animals will be permitted at the event.

For more information, visit https://www.dnr.sc.gov/marine/openhouse2015.html.

For media inquiries, please contact Erin Weeks at (843) 953-9845 or weekse@dnr.sc.gov.

---
More News