Marine - On Site Sampling at
Marine Resources Center at Fort Johnson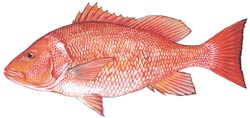 If you ever wanted to talk with a biologist and/or see how biological samples are collected, here's your chance. Boats that are returning through Charleston Harbor, can come by water to the Marine Resources Center at Fort Johnson, to have their red snapper sampled. Anglers can also come by car to the Center if that is more convenient. If this is the case, we will be sampling by the boat slip located at the back of the property.
How it Works:
Call 843-412-3269 to let us know your plan to stop by.


Anglers should arrive by water with any red snapper whole and intact.


Boats can pull into the boat basin where they will be met by SCDNR biologists.


Biologists will take necessary samples (fin clips, otoliths, lengths etc) and return whole fish back to the angler.


Sampling process should take no more than 10 minutes.


As a way to thank anglers for their cooperation, each angler who caught and provided their red snapper for sampling, will be given a free t-shirt and their name will be entered in a drawing for a chance to win a Yeti cooler.
2013 Dates and Times Fish Will Be Sampled:
Time: 2:00 pm – 7:00 pm

Friday, August 23rd


Saturday, August 24th


Sunday, August 25th

---