Licensing and Applications
Turkey Tag Mailout
Turkey Tags are on their way! If you requested turkey tags they will be mailed the first week of March. So be on the lookout for your tags.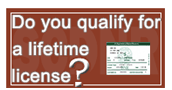 If you have any additional questions, please contact the SCDNR License Section at licensing@dnr.sc.gov
The licenses and application forms below are in the Adobe® Acrobat® (PDF) format. Adobe® Reader® is required to open the files and is available as a free download from the Adobe® Web site. Most file sizes are less than 1M unless noted.


Forms and Applications