Operation Game Thief
Poachers steal your natural resources!
In May of 1999, one call to Operation Game Thief prompted a statewide investigation that identified over two hundred Natural Resources Laws violations. These unlawful acts included the illegal sale of freshwater gamefish, of saltwater fisheries products, possession and size limit violations, and others. DNR Officers seized over 1,300 pounds of natural resource products destined for illegal sale as a result of this one call.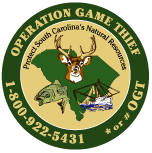 Operation Game Thief is a program designed to allow you to get involved in the protection of your South Carolina natural resources. With the information and donations provided by concerned citizens, like yourself, Operation Game Thief assists DNR in the protection of South Carolina's wildlife, fish, coastal, and other resources. Rewards of up to $500 are paid to persons providing information leading to the arrest of natural resource law violators. In addition to supporting the rewards system, donations to the program pay for the toll-free, round-the-clock telephone reporting system.
For a brochure and application to join this program, please call
803-734-4002.