SCDNR to Celebrate National Hunting
and Fishing Day on September 24, 2016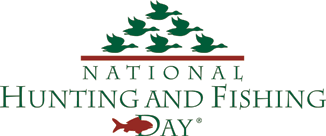 National Hunting and Fishing Day, traditionally celebrated on the fourth Saturday in September, began in 1971 to celebrate conservation successes of hunters and anglers across the Country. Forty-five (45) years later it serves as a perfect opportunity to introduce youth and newcomers to the outdoor sports and the vital role they play in wildlife conservation efforts. Created by the National Shooting Sports Foundation, National Hunting and Fishing Day has grown into a family-focused celebration full of exhibits, hands-on activities, and interactive seminars. In South Carolina we celebrate our more than 595,000 hunters and anglers annually on National Hunting and Fishing Day.
Place and Contact Information
Date: September 26, 2015
Location: 7812 Rochester Highway, Duke Energy's World of Energy, Seneca, SC 29672
The use of GPS navigation is not recommended. A shuttle will be provided from Highway 130, Seneca, SC.
Activities Include:
Air Rifle Shooting
Archery
Butterfly Garden
Camo Games
Fly Casting
Campsite Safety
Wildlife Critters
Lake Fishing
Fly Tying
Hunting Laser Tag
Boating Safety
Kayaking
Guests can bring their own picnic lunches or purchase food from on-site vendors.
For more information contact: 1-800-777-1004 or visit us at:
http://www.duke-energy.com/visitor-centers/world-of-energy.asp
Sponsored by:
Academy Sports & Outdoors
Duke Energy
Clemson Extension
Clemson University 4-H Shooting Sports
Elkmont Trading Company
Harry Hampton Memorial Wildlife Fund
South Carolina Department of Natural Resources
South Carolina Wildlife Federation
Trout Unlimited
Upstate Forever
U.S. Sportsmen's Alliance Foundation
Weatherby Foundation International
Photograph Gallery of previous events -
---